Custom Made Tours
---
Tailor Made / Create your own program

For all the tours in south of Morocco
Morocco is a hiker's delight with stunningly beautiful and varied nature and interesting Berber culture.
Whenever you want to go, you will always find somewhere where the climate is perfect for trekking.
We arrange tours of different lengths and levels of difficulty for large and small groups all over High Atlas and Desert, and you choose the starting date yourself.

For you kind information we mention the following options, according your time and suit your desire:
* EXPLORE VALLEYS AND VILLAGES IN THE HEART OF HIGH ATLAS.
* CULTURAL TOUR IN BERBER VALLEYS.
* EXCURSION & DAY TRIP WITH THE BERBERS.
* 3 DAYS TREK IN PITORESC VALLEYS.
* COMMBINED TREK HIGH ATLAS & DESERT.
* COAST WALK AND ATLAS MOUNTAINS WALK.
* COAST TREK & TOUBKAL ASCENT.
* HIKE IN DIFFERENT AREA IN MOROCCO.
* WALKING HOLIDAYS ACCORDING TO YOUR TIMES.
* LUXURY TOUR IN ATLAS MOUNTAINS.
* COMMUNITY PROJECT WITH LOCALS.

No sightsee or group is the similar. We convey highly custom made, personal and inventive programs for all the tours in south of Morocco we offer.
Every idea is a reason for travelling and we make sure you will have the greatest bona fide and unique experience:
* Unique private tours and trek!
* The most beautiful area Morocco has to offer!
* History & Cultural tours!
* Pilgrimages & Religious Tours!
Almost everything is possible and we ensure that all is arranged!
Tell us where you want to go, for how many days, and we will put together the tour of a lifetime for you. Our professional trekking travel company at the Custom Tour Centre will create the perfect experience for you.
Just supply us all the requirements for your next trekking holidays in Morocco, And Our team in High Atlas will be in touch with you as soon as possible.

Accommodation & Facilities In Medina of Marrakech we use a relaxing Riad such as the Moroccan home Hotel. The accommodation is on twin share basis with European personal facilities. On treks we use Berber houses and refuges who present in many villages of the Atlas. They are comfortable, with hot showers, beds with sheets and blankets and the electricity. Lodgings are generally in "shared room": from 2 up to 5/6 people or we go camping using two person tents with sewn in land sheets. Basic bedding and mattresses will be provided, but you have to bring your own sleeping bag. You are hiking all the way through some of Morocco's most isolated regions, so please be equipped for very necessary washing and toilet amenities. Occasionally there is no running water, but there may be a stream in close proximity. Toilets will either be ' natural'. You will need to bring your own supply of toilet paper (available in the villages).

Food & Drinks The food will be with fresh products: - Breakfast: usually a simple affair of bread, coffee, tea, chocolate, muesli, bread and jam.
- Lunch:
will be prepared on the spot by your cook at noon.(Moroccan salad, occasionally with eggs or tinned fish, cheese, tuna preserves and sardines, bread, fruit, mint tea).
- In the evening:
Dinners are normally traditional Berber-style meals. You will have the opportunity to taste typical Moroccan dishes (: hot meals like tagine, couscous, soup...).
- Soft drinks:
are at your own cost, and are on hand to buy in many places during the hike. (make sure you take some small change in Moroccan Dirhams). * For water, it is always possible to buy mineral water in all villages crossed.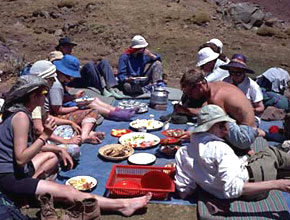 If there is anything not clear in our propositions just Let us know we can arrange as per your requirement.